Welcome to our
Botanical collection
Embrace the simplicity and elegance of Scandinavian living by transforming your space into a sanctuary of serenity. Our Botanical Collection transcends the ordinary, inviting you to cultivate a connection with nature's beauty and the artistry of our carefully selected pieces. Whether you're seeking to infuse your surroundings with the calming aura of the outdoors or to find that perfect touch of nature-inspired elegance, our collection promises to inspire and uplift.
View All

explore the magical world of
Light houses
Step into the enchanting world of these Nordic ceramic houses and feel the warmth of its rustic charm embrace you. Each delicate piece has been lovingly crafted, capturing the essence of traditional architecture. From the humblest of cottages to the grandest of manors, these ceramic houses will transport you to a place where life is simple and joy is found in the smallest of things. Let their intricate details and whimsical designs fill your heart with wonder and nostalgia. Come and experience the magic of Nordic ceramic houses and bring a touch of soulful beauty to your home today.
Shop All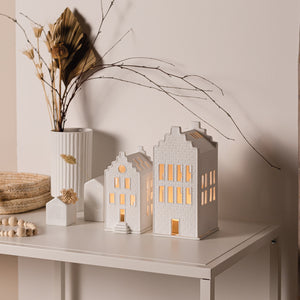 Shop the Look - botanical collection